This store requires javascript to be enabled for some features to work correctly.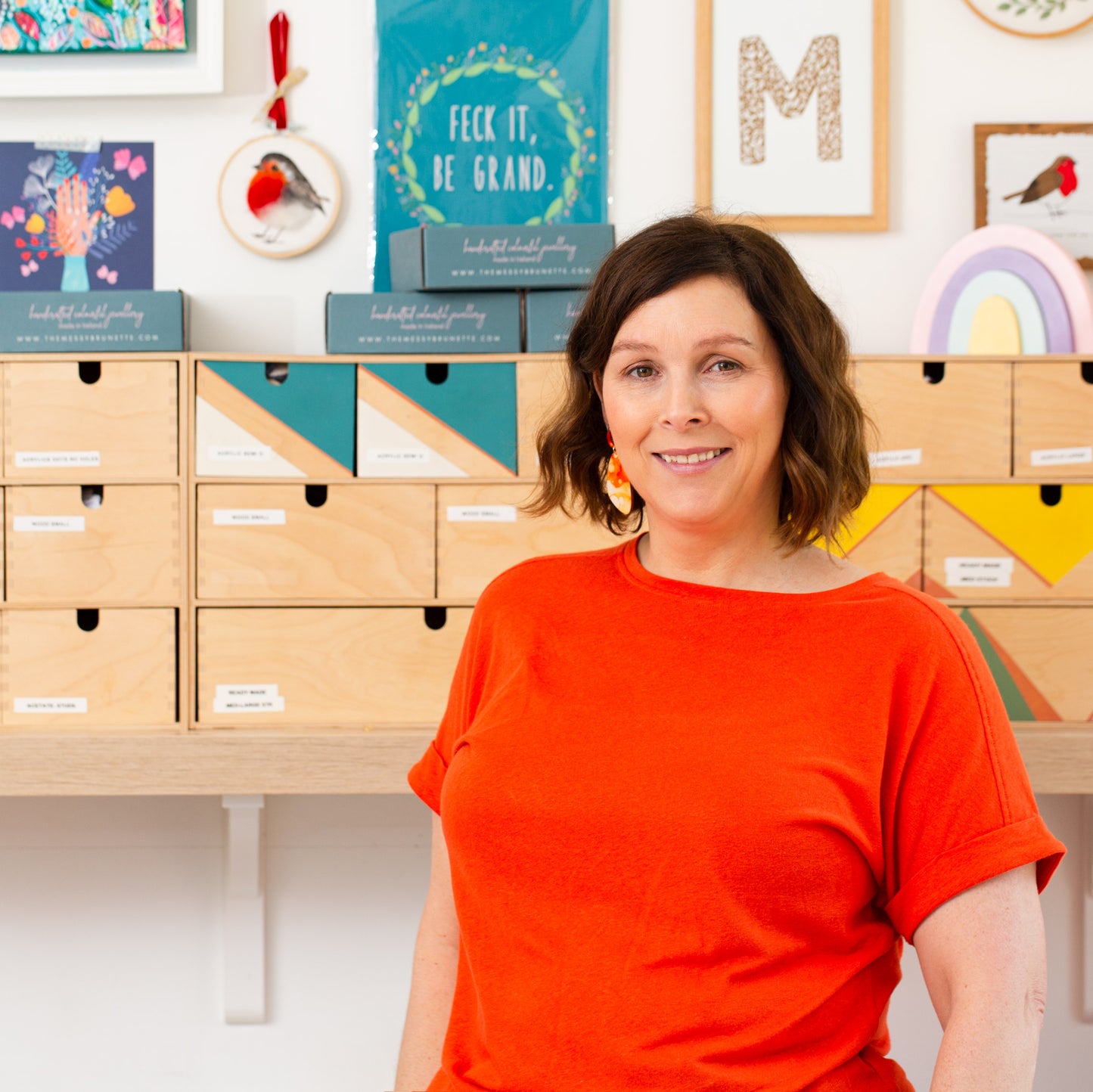 Meet The Maker
Maura, aka The Messy Brunette, the messy creative behind the colourful jewellery brand.

Well hello and welcome to the creative crafty world of The Messy Brunette, that's me Maura, lover of all things messy and creative.

I am a Tipperary based designer & maker of hand painted colourful wood & acrylic jewellery.

Established in 2013, I started out with embroidery and making up small pieces of jewellery, combining this along with hand embroidery kits & designing patterns.  That slowly evolved into more jewellery, 'how did that happen I hear you say'?! well embroidery is like painting with thread, only with paints I am faster and everyone needs at least one nice pair of earrings in their drawer ..... right?!

Inspire by the colours and shapes around me, I try and use these in my work.  My jewellery is laser cut from FSC certified European plywood & each piece is then hand painted & assembled by me, from start to finish.  I try and use eco friendly materials where possible, from the resin to the glitter to my packaging, to play my part in keeping the environment in good order.

My pieces are bright and colourful, like little pieces of wearable art & hopefully something to make you smile! I use a combination of modern techniques, like UV printing and old traditional craft methods like decoupage in my pieces. Brass, glitter & arcylic are featured in my work, just giving my pieces that extra touch & making them unique. 

You won't see these in Penney's hun! I design, make & photo all these pieces myself in my home studio in Ireland.

I am also a member of the Design & Crafts Council Ireland (DCCI)
You can find my work in these lovely shops !
Stockists
► Health & Harmony, Thurles, Co. Tipperary 
► Green Dot, Clonakilty, Co. Cork
► Forest & Flock, Bantry, Co.Cork
► Shine Boutique, Claremorris, Co. Mayo
► Wrapped in Kindness.ie - Online Shop / Waterford
► Crafty, Castleblayney, Co. Monaghan
► Butterslip, Rose Street, Kilkenny
► Cliff Tops Ireland, Liscannor, Co. Clare
► Wink & Elbow, Dungarvan, Co. Waterford
► Leaf & Bower, Ballincollig, Cork
► Market Square Studios, Ballinakill, Co. Laois
► The Wool Shed, Cutlery Road, Newbridge
► Handmade Design Studio, 32 Mount St, Mullingar
As seen in